Trish Hayward, formerly Tricia Martin de Gélis, is an Australian singer/composer/ pianist/ guitarist living in France.
Original Songs, in French, English or other..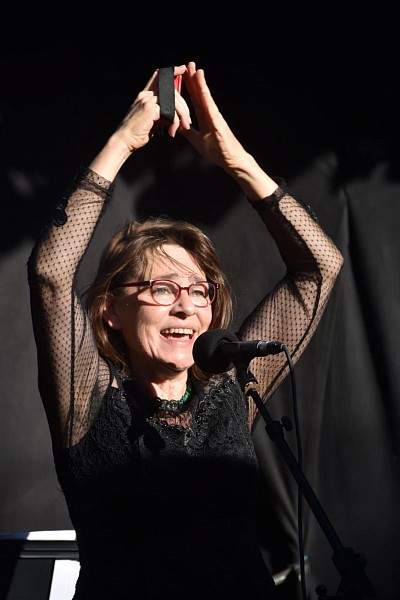 After a lengthy singing career in France, mainly in classical and contemporary classical music, but also in opera, Trish now composes her own songs in a style of Pop Rock Progressive (semi classical). 
These are performed by Kirsch et les Glaçons Chauds. 
Why Kirsch ? After a very long, well watered summer barbecue in the Bugey, (the French Auvergne-Rhône Alps), a blacksmith friend of a friend gave up trying to pronounce 'Trish'... Kirsch has stayed.
A CD of the songs is under preparation, due to come out in Spring 2023 with the label True World Music.
Après une carrière en France principalement dans la musique classique contemporaine, Trish compose, désormais, ses propres chansons dans une style de Pop-Rock Progressive, semi-lyrique. Celles-ci sont principalement joué par son groupe, Kirsch et les Glaçons Chauds.
Pourquoi Kirsch? Car lors d'un barbecue d'été, (de midi à 3 am) dans le Bugey (Auvergne-Rhône Alpes), un Maréchal-ferrant a finalement abandonné ses efforts pour prononcer 'Trish'... Kirsch a resté.
Un CD de ses chansons chez True World Music sortira au printemps 2023.